Chiropractic Care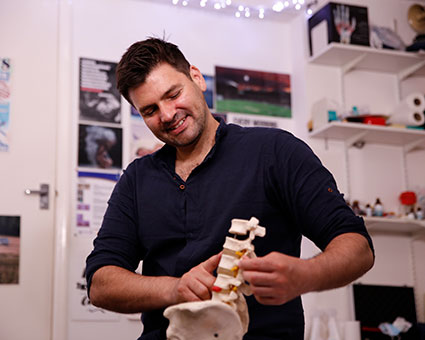 At Croydon Sports Injury Clinic Ltd, Dr. Roddy (Chiropractor) and the team treat patients just as they would want to be treated-with respect, dignity and with an all-encompassing approach to whole body care.
What is Chiropractic Care?
Think of it this way-running a car without oil in its engine is going to affect how it works. Imagine your nervous system as the oil within that car. Without proper maintenance and care, your body won't function at its peak performance, making it difficult to do all of the things in life that you love.
Through chiropractic care, we're able give your nervous system the 'tune-up' it needs to get back on track, improving disturbances in nerve signals along the way so that they can flow freely and deliver messages to your brain and other organs without interference.
Depending on your specific case, we may employ a range of techniques to bring you the best in health including:
Ultrasound / Laser
Hot and Cold Therapy
Massage and Soft Tissue Work
Myofascial Release
Rehabilitation
Activator Method
Electrical Nerve Stimulation (TENS) and Interferential
Vibration techniques
Relieving Your Pain
At Croydon Sports Injury Clinic Ltd, our approach to care is evidence based, meaning we're able to treat certain conditions proven to get better with chiropractic care:
After chiropractic and physiotherapy care, many patients often report feeling better in other areas of their body's and life following a course of treatment with us, including athletes who have seen an improvement in conditions including carpal tunnel syndrome, posture, range of motion, rotator cuff injuries and ankle issues.
Book an appointment today
To get a better understanding of how chiropractic care can benefit you, we encourage you to contact our practice to learn more. Flexible and emergency chiropractor office hours are available.
CONTACT US

Chiropractic Care | 0 208 651 4439