Back and Neck Pain Treatment in Croydon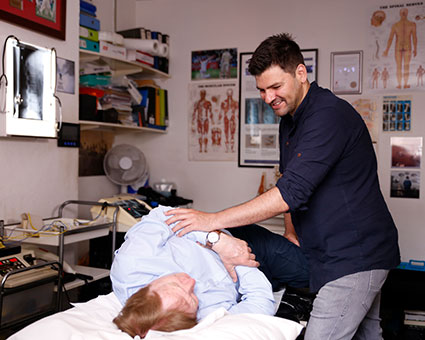 Back Pain
Croydon Sports Injury Clinic Ltd is a Croydon back pain clinic providing chiropractor, osteopath and physiotherapy treatments. we aim to help patients manage symptoms of back pain and neck pain. If you have a backache, local and non-radiating lower back pain, or just need a chiropractor to give you a check up, then we're here to help. Back pain is debilitating and affects many Croydon residents, costs millions of pounds in sick days and insurance each year and detrimentally affects work productivity. When you feel stiff in your lower back and it feels like muscular spasms become more frequent it is time to call a chiropractor or seek medical help from a GP.
How Chiropractors Help Patients with Pain
Chiropractors help patients suffering with back pain and lumbago by manipulating restricted areas of the spine with adjustments.
Only chiropractors study a 5 year undergraduate degree in spinal manipulative therapy techniques and the professional application of treatments for back pain often helps relieve pain and normalize function of the spine. When you get backaches, pain in the buttocks and muscle cramps it could be due to overdoing something and you may need chiropractic help. As always a chiropractor can best assess your symptoms, evaluate the condition, provide a diagnosis and plan of action and then possibly provide back pain therapy depending on individuals. Ask us for more help and advice today.
Neck Pain
Neck pain is a pain! It can cause headaches, lead to poor sleep and literally drive people to despair. Chiropractors are the safest bet for a check up or appointment if you need a non-invasive, non-medicated natural approach to symptomatic relief for neck pain. There are several forms of neck pain and each and every patient presents with their own unique symptoms. Work related poor posture from sitting at desks leads to rounded shoulders and forward neck carriage over the chest.
Muscles stiffen and joints lose their range of motion as a result of poor sitting and work posture. It is important to detect and correct any postural problems before they become chronic or set-in their ways. A chiropractor assesses posture and recommends proper techniques to alleviate stress on neck structures ergonomically and therapeutically with spinal manipulative therapy. By making small changes like, changing sitting position, desk and chair distance and height from workstation, changing pillows – all can help with overall improvements in levels of discomfort and recovery.
Easing Muscle and Joint Pain
A chiropractic treatment may well ease any muscle and joint pain caused by poor posture in just a few treatments. Neck pain caused by overuse or micro-trauma can be assessed by a chiropractor and lead to a diagnosis or referral. We refer to private centres for radiaography and imaging including MRI, Ultrasound and CT.
If you need help, guidance and a treatment plan (and as long as you are a candidate for care) it is possible that chiropractic adjustments can restore normal spinal function and help you get back to feeling less tension in the neck. We can provide neck exercises including strengthening and stretching techniques for self help home care that will assist in recovery from neck pain.
Book Your Time
So why not contact us and see if we can help with your back and neck pain.

Back and Neck Pain Treatment Croydon, Sanderstead, Selsdon | 0 208 651 4439