About Croydon Sports Injury Clinic Ltd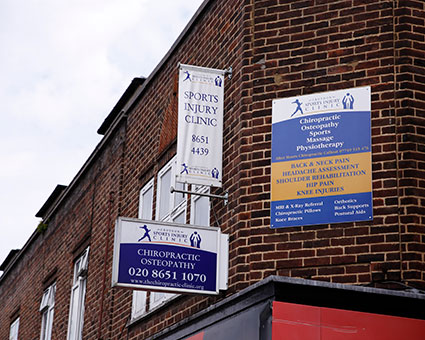 With a mission to not just get patients healthy, but a passion to educate them along the way, Dr. Roddy (Chiropractor) combines his own love of learning with a multidisciplinary approach to chiropractic care for optimal patient health.
Dr. Roddy (Chiropractor) has been in practice since 2006. He opened Croydon Sports Injury Clinic Ltd in 2010. Unlike others, he employs combination therapy for nearly all patients, understanding that to achieve the best results, a combination of physiotherapy techniques, massage, rehab and chiropractic care is often favorable.
MEET DR. RODDY KNIGHT

Bringing a Worldly Approach to Croydon
Chiropractic is for everyone, all races, all faiths. I've personally been lucky enough to have worked with everyone in all of my clinics over the past 10 years in Australia and the UK. At Perth Sports Injury Clinic, Complete Care Chiropractic Clinic and in the UK at Croydon Sports Injury Clinic Ltd. The spine and body are intended the same for all, no matter who, we all came from the same ingredients, it knows no prejudice."

Dr. Roddy Knight (Chiropractor)
Having practiced around the world in both the United Kingdom and Australia, Dr. Roddy (Chiropractor) has a unique understanding of how to address your health concerns, bringing a worldly approach to modern wellness.
We currently see patients between ages five and one hundred for a wide range of back and neck pain and sports injuries from everyday activities to sporting accidents and those who are healthy and wish to maintain their wellness.
Discover the Croydon Sports Injury Clinic Ltd Difference
Unlike many practices, Croydon Sports Injury Clinic Ltd is pleased to be able to offer our patients flexible and emergency office hours with Dr. Roddy (Chiropractor) making himself available when you and your family needs it most.
"To put it perhaps crudely without meaning offence in short, we are all here, living and breathing and come from a sperm and egg. Innate intelligence over 9 months from embryonic development through to birth and we are all winners for that reason. We beat all the other competing ingredients to that egg and we are here. Throughout our lives our bodies constantly change, what we put into our system, (nutrients), how we treat our bodies and maintain our levels of fitness all contribute to our overall chances of good health."
If you're ready to learn more about the power of chiropractic care, we invite you to contact our practice today to schedule your appointment. We look forward to crafting a custom plan just for you to help bring you into health and out of pain.
"With chiropractic a professionally trained Dr of chiropractic can help assist you in detection of potential areas of dysfunction within the spinal column. Thereby removing the restriction and allowing your body's own natural innate intelligence and life force to heal itself. We merely just remove the restriction with the aim of allowing it to be free from interference. Your body does the rest. If we cut ourselves we don't need to flick a switch to heal. We don't need to think about our heart beating- it just does it. Our bodies are amazing we should pay it some attention. It's amazing how it will respond with a little time and care."

About Croydon Sports Injury Clinic Ltd | 0 208 651 4439